Les Bois Déroulés de l'Auxois
21320 Pouilly-en-Auxois, France
Tél. : +33 (0)3 80 90 80 11
Fax : +33 (0)3 80 90 89 52
contact@bois-deroules.com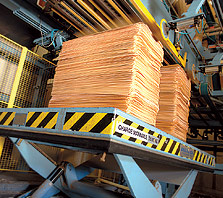 OUR TECHNICAL OPTIONS
• Length of veneer:
up to 1600mm.
• Thicknesses:
from 1 to 3mm.
• Quality:
we mainly use a grading system with letters A to E. Our clients provide us with their own specifications, indicating the different acceptable and unacceptable qualities and defects in each category.
• Possibility of edge-glued splicing.
A SELECTED PRODUCT,
READY FOR USE...
The final treatment of the veneer and grading are carried out by hand.
More than half of our production team have over twenty years of experience with the company: this is the guarantee of our know-how.
The quality of our veneers aids production and enables reduced manufacturing costs for our clients.
... AND CUSTOMISED.
It is our clients who define the specifications
of the veneer, and we therefore work mainly to order.

We deliver customised products,
ready to be transformed in your workshops.
We place great importance on marketing in order
to establish a partnership with our clients.
We respond efficiently to their requests, in France
or throughout the world:
exports represent more
than 85% of our sales today.